Writing Desks: Biggi's desk
Po Shun Leong
Size H: 84 in
In a private collection
This 1996 desk is in the largest collection of Po Shun's wood art in Hanover, Germany. It is a partly traditional ornate desk covered with interesting forms and, of course, hidden compartments. When the doors are open, writing surface slides out. Mainly mahogany. This was the first of seven complex desks to come out of the studio, 1996-2004.
The first in a series of seven desks from 1996-2004. Biggi's Desk, 1996. Private Collection, Germany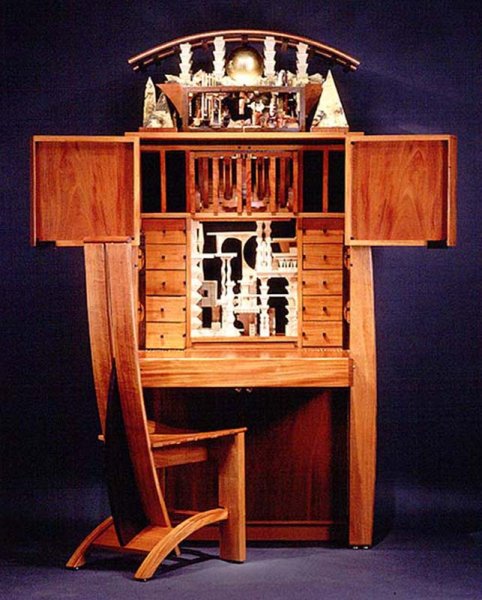 This is same desk with the doors open. The writing table will pull out. An abstract composition of bleached maple in the center is for contemplation: "Writer's Block?" Above the desk is an arrangement of architectural shapes which are lit from below, just to elevate the presence of the desk. The gentle curve of the desk chair adds contrast to the generally straight lines of the desk. Private collection, Germany.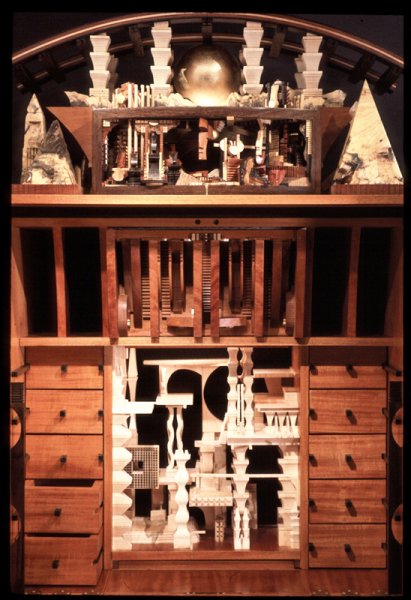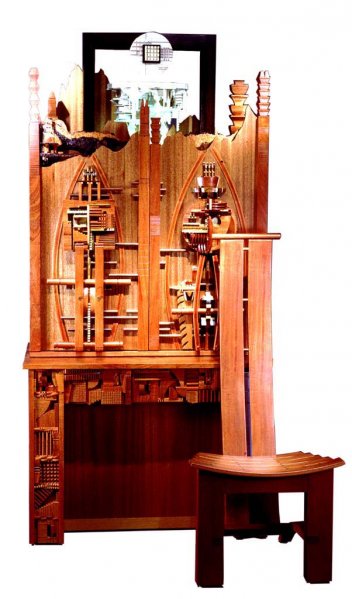 Han's 1997 desk is a companion desk to the first one. The style is loosely based on American Indian motives. A Big cloud floats above the top of the desk behind the silhouette of "mountains" carved into the top of the doors. On the front of the doors are suggestions of bows and arrows. The horizontal lines on the doors(arrows) will slide. You have to know which way to slide each of the "arrows" and in which in order to open the door. The lower part is the writing top. It will slide out.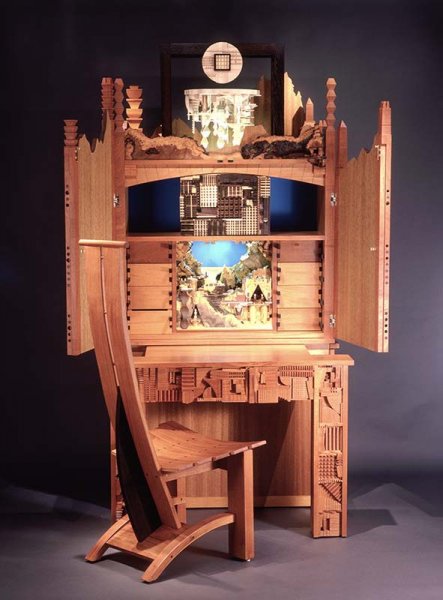 Han's 1997 desk, doors open. The focus in the interior is an idyllic scene of mountains and sky, just for contemplation.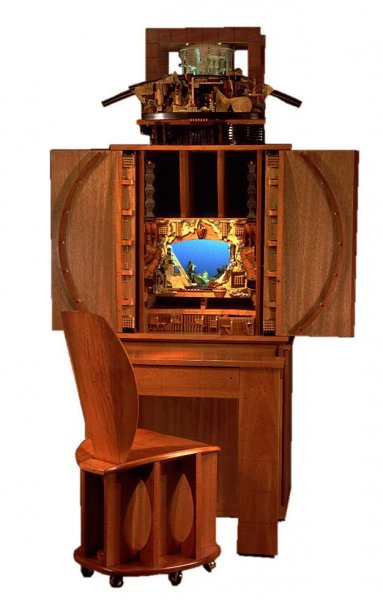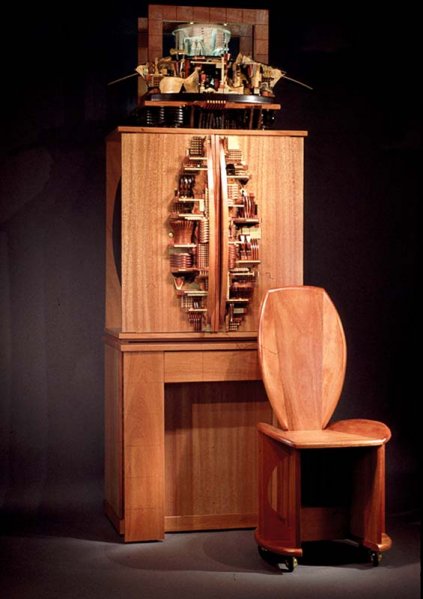 Desk, 1998. Doors closed. Private Collection.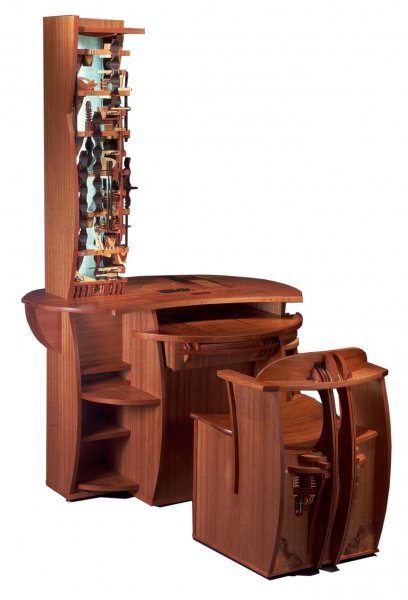 Desk, 1997. Private Collection, California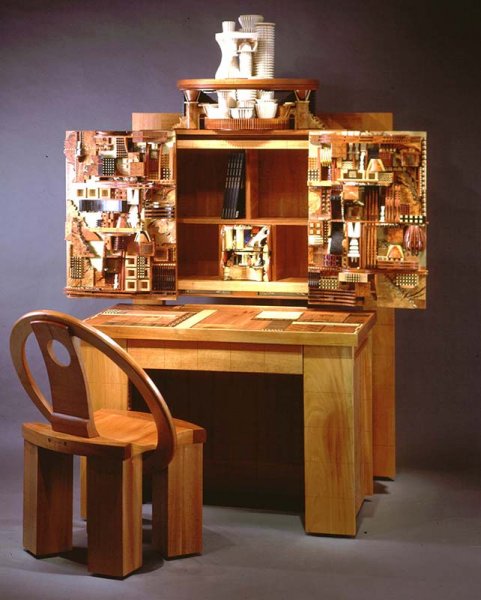 Desk, 1998. Showing doors slid open. Private Collection, Texas.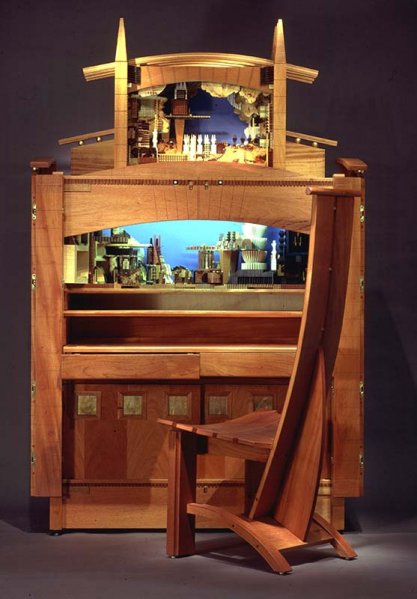 Desk, 1999. Private collection, California.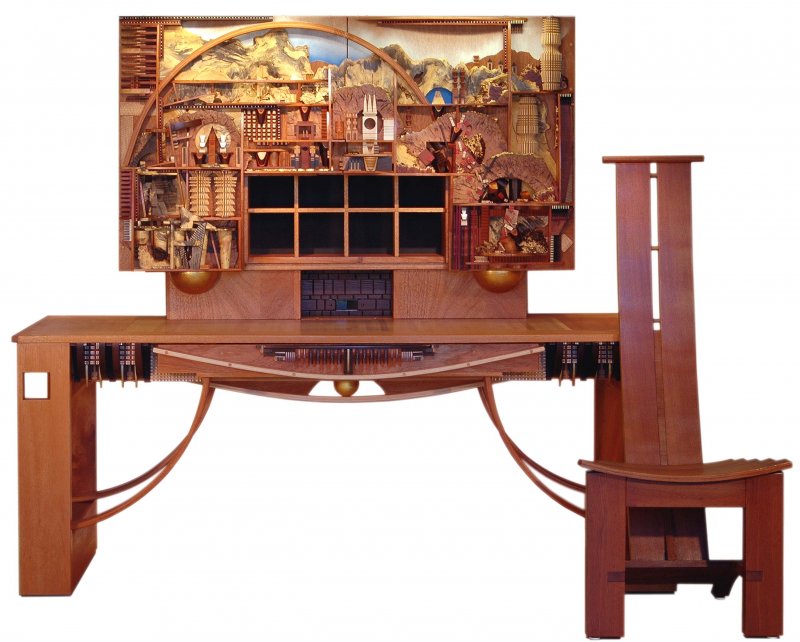 Desk, 2000 Private collection, California.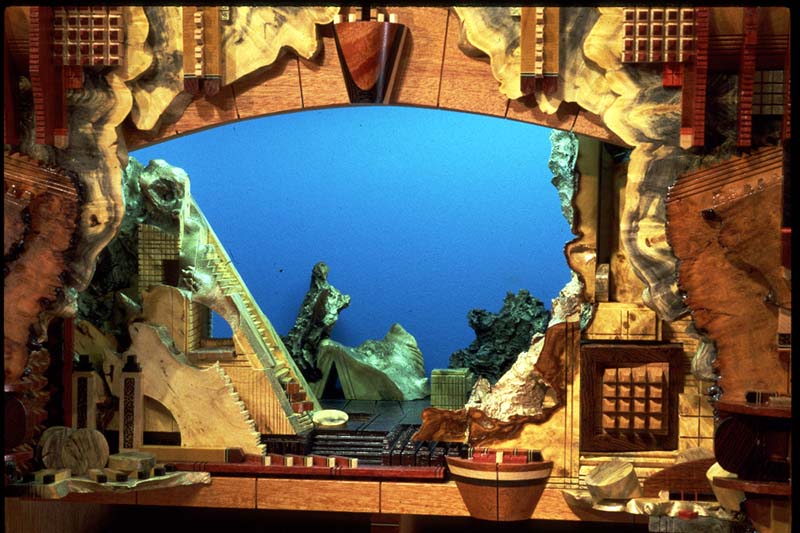 All the desk interiors have an idyllic composition. Blue skies add depth and a positive feeling of starring into the distance. I built each desk around a setting, like surrounding the stage in a theater with a building. This image is from the interior of the 1988 desk.
Return To Top