Latest Chamber from the Ruins most recently Exposed by Dr. Marq
Stephen Mark Paulsen
2015 Size H: 28.5 in W: 8.3 in D: 3.5 in Weight: 8.5 lb
Available for Purchase - Inquire
Wall construction of Buckeye burl, a chamber containing five chalices turned from various palm seeds (vegetable ivory) with stems of ebony and blackwood. Floor is parquet of ebony and jacaranda wood, back wall is 18,23 and 24 kt gold. Inner Box is black afara and lauan. Chamber is internally lit with LEDs and functions as a night light in a dark room or hallway. People have asked me to make lighted wall pieces for decades, but LED technology has only recently made it safe to do so.
Skylit Chamber from the Ruins Most Recently Exposed by the Notorious Dr. Marquand and his Depraved Crew. The chamber is lit with its integral LED lighting in a room at twilight in this view.

In this image the interior chamber is illustrated as it appears when the LEDs in the piece are unlit and the piece appears in ambient light in a day lit room. The fine turning is apparent but the thin-walled vessels are less amplified.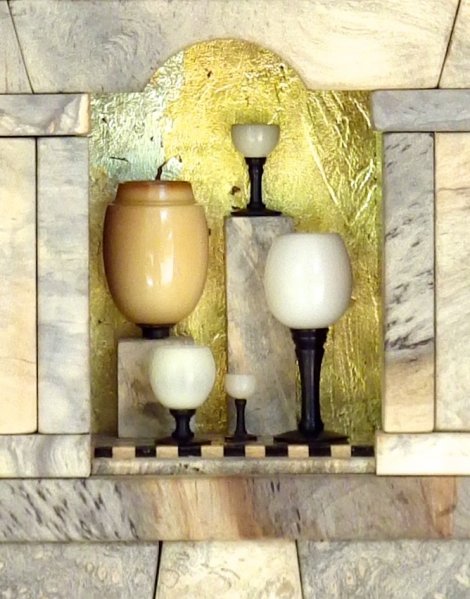 Photo by Stephen Paulsen
Here is a closeup of the inner chamber in ambient light, without LEDs turned on.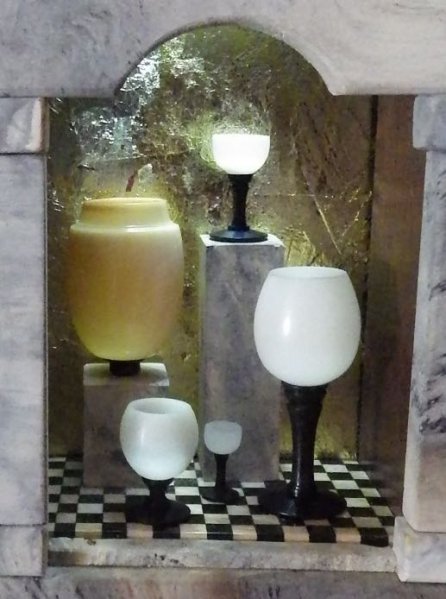 Photo by Stephen Paulsen
Here is the inner chamber with LEDs turned on, in a twilight setting.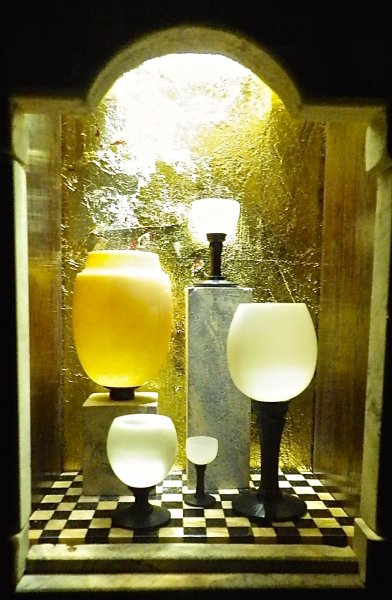 Here is the interior chamber in a dark room.

Photo by Stephen Paulsen
How this piece will look hanging in your home with the LEDs illuminated.
Return To Top